M/B Fjellvåken II
A sunny summer's day on board M/B Fjellvåken on Lake Møsvatn, 919 metres above sea level, is an unforgettable experience.
Phone: +47 907 50 250
E-mail: [email protected]
Experience
Mountain cruise to Mogen
The boat runs scheduled trips between Skinnarbu and Mogen in the summer season. Mogen Turisthytte (tourist cabin) is a popular gateway for hiking trips in Hardangervidda National Park.
Charter the boat
Your options include a day trip from Skinnarbu up to Mogen Turisthytte, or a three-hour guided round trip from Skinnarbu to the island of Hovden with its beautiful church. You can also charter the entire boat with its crew – something to think about for your next birthday celebration.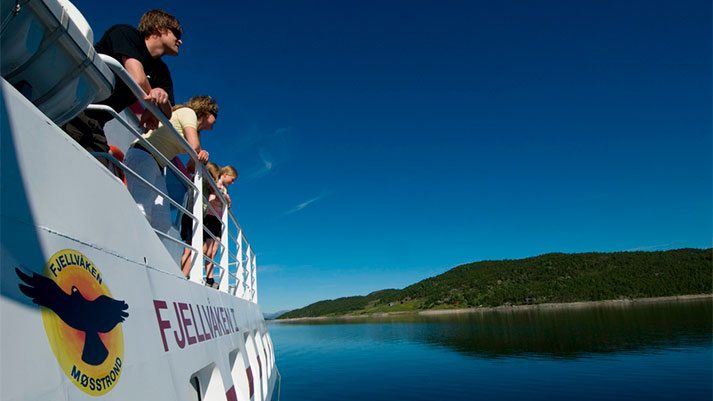 The boat runs 2 trips every day from 22.06 to 02.09 between Skinnarbu and Mogen. We recommend the adapted path "Kvennavegen", a distance of 1.9 km. Along the way there are audio listening points where you can, among other things, hear Oddgeir Bruaset from Norwegian series "Der ingen skulle tru at nokon kunne bu" tell stories from the area.
Booking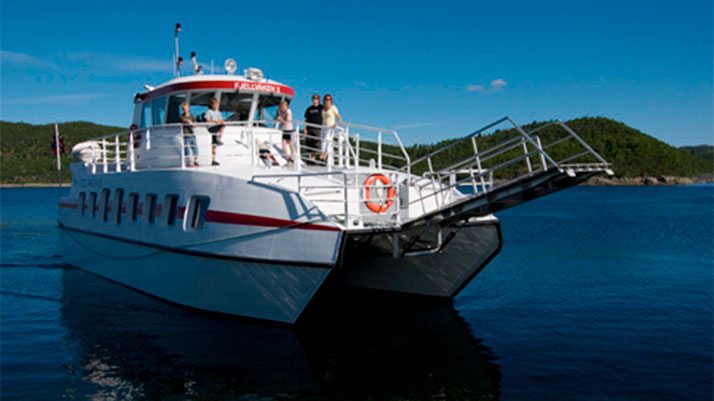 Every day (22/6 – 02/9)
09:30. Return kl. 15:00
Join M / B Fjellvåken II
on a day trip from Skinnarbu
to Mogen, and experience the beautiful nature and the roadless farms around Møsvatn. A good meal based on traditional food and local produce at Mogen Turisthytte is included. The Mountaincruise must be pre-ordered at www.fjellvaaken.no. NOK 715, – for adults and NOK 310, – for children (4-15 years).
Booking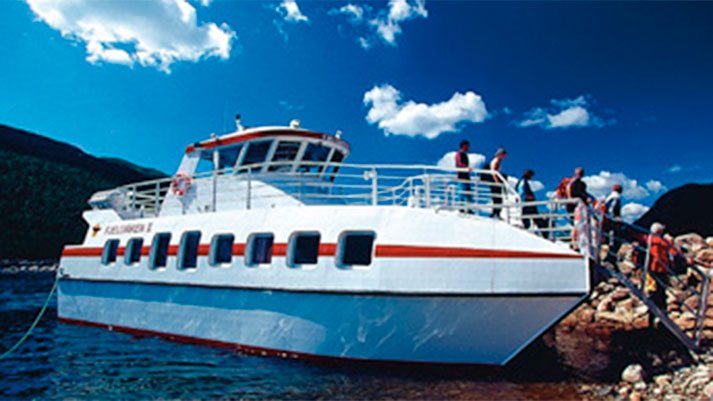 Nature and culture cruise 03.09.
– 16.09. and 29.09. – 07.10.
Day 1 – Departure Skinnarbu
09:30 – Mogen 11:00
Lunch Mogen
Dinner, overnight Mogen
Day 2 – Breakfast Mogen
Departure Mogen 11:10 –
Skinnarbu 12:45
Lunch Hardangervidda
Nasjonalparksenter 13:15
Visit the exhibitions 14:00
NOK 1985,- for adults and NOK
1050,- for children.
Additional double room for an extra price.
(Contact Mogen Turisthytte on
+47 97 15 15 30)
Tickets:
www.visitrjukan.com
or phone (+47) 350 80 550

Chartertour with M/B Fjellvåken II on lake Møsvatn
Now, you can charter the MB Fjellvåken II with crew, and sail around Møsvatn at your own pace!
Suitable for companies, groups, retirement or other teams to explore when a gold wedding or birthday is to be marked. Use your imagination!
One day trip with MB Fjellvåken from Skinnarbu to Hovdøya, Mogen and return to Skinnarbu.
Note: The offer is limited, as the boat is often in scheduled traffic.
Available times:
 22.06 – 02.09 after 17.00
 03.09 – 16.09 after 16.00
 17.09 – 20.09 whole day
For prices and information, contact
Fjellvåken on +47 907 50 250 or e-mail: [email protected]
News
---
No post was found with your current grid settings. You should verify if you have posts inside the current selected post type(s) and if the meta key filter is not too much restrictive.
Facebook
This message is only visible to admins:
Unable to display Facebook posts